Making good progress getting everything on tracks
After a week of hard work, we're enjoying a day off. The weather has been very nice the past few days. We were even able to have lunch outside!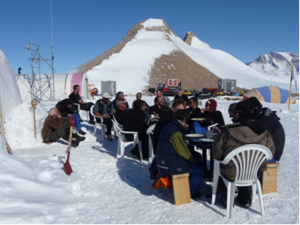 We're making good progress. The first wind turbines are connected to our general low voltage panel and provide our energy. Some of the systems are connected and are being tested at the moment. We're halfway through testing the PLC's (Programmable Logic Controllers) for the water treatment installations. All the equipment is functioning independently. Next week we will be testing the process with water.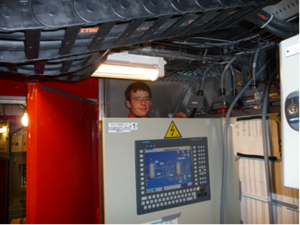 One of the four low voltage distribution panels, the one for the kitchen, has passed all the tests successfully. The power management system is now at all times keeping the energy production and usage in balance. Every energy-using point (light source or socket) comes with a switch to use in order to make a request for energy usage to the PLC, which calculates if there is enough energy available. The PLC can also make the decision to switch off a less important energy division. This is a unique system worldwide. In the future it will allow green energy systems (with solar panels and wind turbines) to work in "stand alone" mode (so-called "smart grids").
The internet has been down for a few days since they were repositioning the satellites and we got out of their reach.
We're enjoying splendid landscapes at all times. The incidence of the light makes that they're constantly changing. The way a mountain range looks today, is completely different than how it will look tomorrow.
In general, we're doing very well and we're happy to realize that apparently we prepared our trip quite well, since it seems we didn't forget any component of our equipment up to date. Note that the smallest missing item could mean huge problems…
Wim and Jean