Yesterday we participated in the inauguration of the station, together with different VIPs such as our Minister of Defense Pieter De Crem and Minister of Scientific Policy Sabine Laruelle. Schneider Electric was represented bu Gilles Vermot-Desroches, Senior VP Sustainable Development.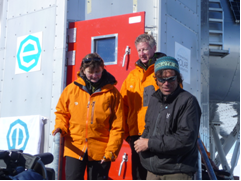 Sabine laruelle, Pieter De Crem and Alain Hubert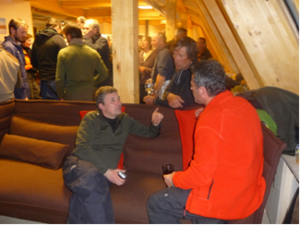 Gilles Vermot-Desroches (left)

Unfortunately, Prince Philip couldn't be here, but the delegation brought a movie in which he and his daughter (who the station is named after) passed a personal message. Princess Elisabeth also made a collage that was presented to us.
Most of the VIPs wanted to experience the real Antarctica and decided to stay in a tent for the night instead of sleeping in a room in the station. In the meantime, it's already minus 20°C in the tents at night. From mid February on, the temperatures are falling spectacularly. Johan Berte, who comes here regularly, told us he experienced minus 30°C at the end of february.

After the inauguration we had a chance to meet the different VIPs, most of them CEOs of partner companies like Umicore, CMB, Prefalus etc. Jean bumped into an old schoolmate, the CEO of Prefalux.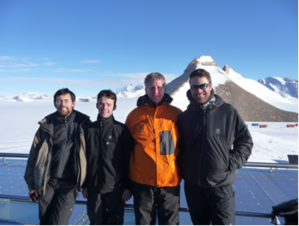 Dries Lemmens (Laborelec), Wim Van Belle, Pieter De Crem, Rafaël Jahn (Laborelec)
Everybody worked day and night to get everything ready for the inauguration. Jean and I were no exceptions. Some days we worked untill 3 pm and the results are pretty nice. Lighting and sockets are ready to use with the Power Demand System that keeps production and usage of the energy in balance at all times.
The water distribution system and parts of the ventilation are operational. This week we will be starting with the process tests for different applications such as water treatment.
Everybody was very excited to witness how our supervision system displays all the information from the different applications (temperature, alarms, pressure, etc) and that it is possible to operate the application from the supervision system. The system also offers a global overview of what is on offer in the station: ventilation, solar boiler, water treatment, a system to melt snow etc.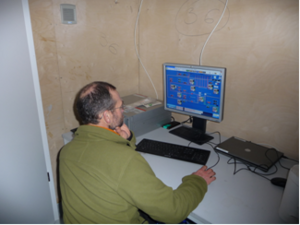 On our day off on Sundays, we explore the surroundings. Last time we visited what they call the "wind scoop": a great heap of snow, tens of meters in height, piled up by the wind. The result is a crevice between the snow and mountain where you can walk through. The incidence of the light, creating a greenish blue glow, is unbelievably beautiful.