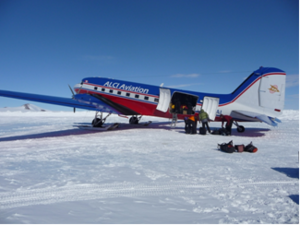 On january the 30th we left the NOVO station where we were stuck because of the bad weather. We reached Utsteinen after a 1 h 30 min flight on a relatively small plane crowded with sixteen team members and a lot of cargo. Since there wasn't enough space on the plane, we had to leave a part of the equipment at the NOVO station. Fortunately, team leader Jacques Brassine realized the importance of taking our material. All our equipment made it to the Princess Elisabeth Station and after losing a lot of time already, we're ready to make an extra effort to get things on rails.
After landing we immediately proceeded by visiting the camp and getting to know the rules and arrangements of life in Utsteinen. Strict measures are to be taken in mind to avoid unpleasant surprises. At the NOVO basis, for example, two of our team members went for a walk without telling the Russian crew in charge and were walking straight in the direction of a disintegrating nuclear waste container. Luckily, the Russians realized their absence quickly enough to get them back immediately on snow scooters.
We were all given a personal tent. During the three days prior to our arrival, a violent snowstorm had been raging. Visibility was only 2 meters. A track of ropes has been spread out between the different buildings, to use in case of a white out. It's not unlikely for one to encounter considerable difficulties to find back his tent, once he left it.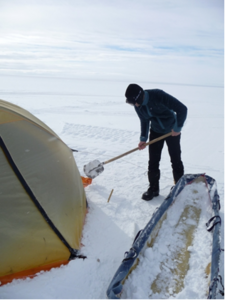 Some tents were particularly damaged by the snowstorm. Jean first ended up with a damaged tent and hence had to change to a new one that he had to set up from scratch. On this picture he's covering the outside of the tent with snow in order to protect it from snow getting between the inner and outer canvas. An other protection measure is creating a 30 to 40 cm high wall of snow at the side where the wind is kicking in, so the tent won't get snowed in too quickly.
We went to the station to have a first look. They have been busy wiring the buildings and quite some work is already finished. But there's still a lot to do and we can luckily count on an extra helping hand for the wiring.
The first impression of the station was really astounding.
To be continued…