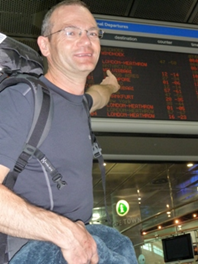 As a result of the delay due to bad weather conditions we only left Cape Town the 28th. At 10 am we took off for the Norwegian NOVO station in northern Antarctica.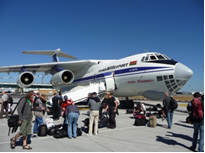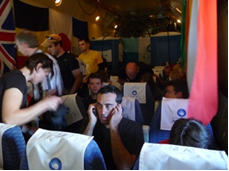 The plane to Antarctica: an Ilyushin 76TD with Russian crew. There were 10 rows with 6 seats in the airplane. Depending on the cargo, rows of seats can be added or removed. We had to bring our Antarctic clothing outfit and stock it in the back of the plane, next to the portable toilets that you can see on the picture.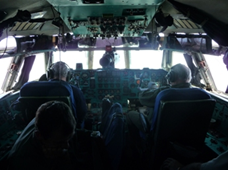 A look at the plane's cockpit. The pilot used to be a well-known Russian test pilot. A good thing, considering the extreme landing conditions. The plane is equipped with ordinary wheels but has to land on a runway of ice. The pilot simultaneously uses the motors to brake, which is quite a tricky performance. We arrived after a 5 hours and 35 minutes flight. The time zone in Cape Town is GMT+2, at NOVO we're back on GMT. Local time of arrival was 1:35 pm.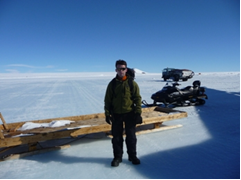 The weather was fine (visibility of 1.200 m, 3 °C, wind speeds of 35 km/h). The transfer to Utsteinen was planned for the same day.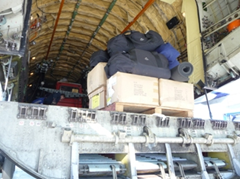 Our team helped unload the cargo for the BELARE expedition. This wasn't an easy job: we had to handle the fragile machinery and weighty containers with the equipment for the laboratory, the PLC's and the heavy spare parts for the Prinoth tractors, which had to be lifted by six persons in order to put them on the sledges. The equipment was then transported to the Bassler plane by Ski-Doo.
We were rapidly confronted with the unpredictable weather on Antarctica. Everything looked peachy keen but quickly storms, bad visibility and snow on the runway in Utsteinen were forecasted. As a result we were stuck on the NOVO basis until the 30th. At night, our team stayed in tents 11 and 12.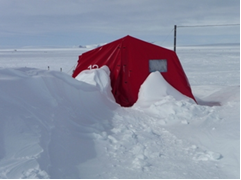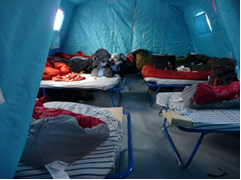 Together with 6 other persons, Jean and me resided in tent number 12. It wasn't very spacious with all our luggage and the fragile material we had to stock in the front of the tent.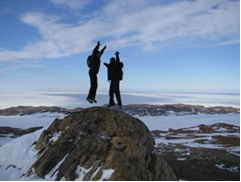 The station is operated by a Russian crew. We were lucky to have a Russian speaking expeditionary in our team. Together with the Russians, we took a Prinoth tractor to a nearby mountain range. On top of the world!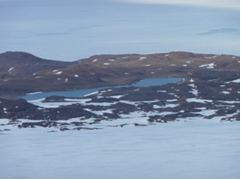 In the distance we could spot a lake. The scientist in our team explained that this is the result of local micro-climate. Unfortunately we couldn't go take a closer look due to the risk of falling into crevasses.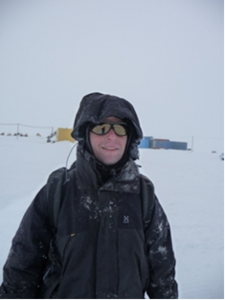 In the afternoon, the weather drastically changed. Heavy winds were rising.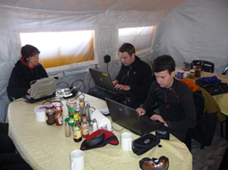 As best as we could, we prepared as much as possible for our mission while waiting for our flight to Utsteinen. In the living room-tent we could plug in our computers and work at a table.