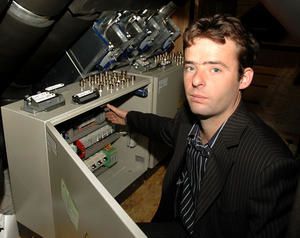 Wim Van Belle, Low Voltage Systems Project Engineer at Schneider Electric. At the age of 28, he will set off for the Antarctic in January 2009 to collaborate on the installation of the energy and electricity technologies of the polar station Princess Elisabeth Antarctica.
His Professional Experience
"I have been a Low Voltage Systems Project Engineer at Schneider Electric since 2003. At Schneider Electric, I have always tried to accumulate as many different and diverse technical experiences as I could. I am especially enthosiastic about multi-technique electrical distribution projects. I also like to help out on building sites whenever I have the opportunity.
In particular, as an Electrical Engineer with Axima Contracting (GDF - Suez Group) between 2002 and 2003, I was involved in the Berlaymont project (a European Community building in Brussels) in the field of electricity and automation.
From 2001 to 2002, as a final-year student intern at Schneider Electric, I created a 'servo' system in the programmable controller department."
His Role in the Polar Station Project
"I have been working on this project for about 18 months now. First, alongside Laborelec of the GDF - Suez Group, I took charge of the design for the electrical panels for electrical distribution and the management of the various Building Services & Equipment packages (water treatment, ventilation, energy management, etc.). I proceeded by choosing the equipment and cable management systems, and to design and create the panels for the programmable controllers.
In Antarctica, I will support the team in charge of the electrical installation, and will be responsible for commissioning this installation."
His Impressions before Leaving for Antarctica
Most of the installations are prototypes. That is what makes the project special and interesting, but also more difficult. We undoubtedly will be facing unexpected situations, and many problems will need to be solved on the spot. We know that, and I am sure the team will be solid enough to find appropriate solutions in a very constructive way.
This type of experience is a unique opportunity and the thought of carrying this adventure through to its conclusion is what motivates me to go!"
He likes:
respect, honesty, sobriety.
He dislikes:
manipulation.
His greatest adventure to date:
a parasailing jump from 2000 m.